Summary: Hum Bhi Akele Tum Bhi Akele is the latest release scheduled to stream on 9th May 2021 on Hotstar, worldwide.
Hum Bhi Akele Tum Bhi Akele is a Hindi-language movie, directed by Harish Shah. Starring Anshuman Jha and Zareen Khan, this movie is going to start streaming exclusively on Hotstar on 9th May 2021.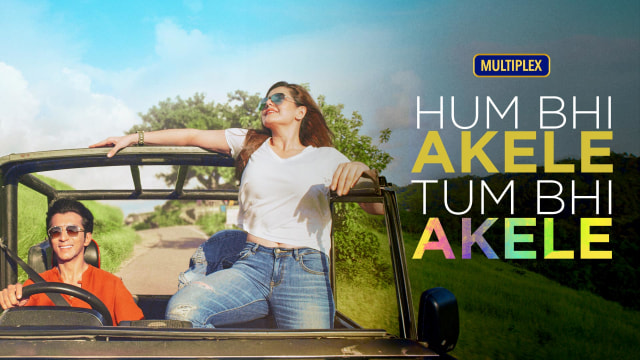 In India, where being gay or a lesbian is considered taboo, Veer and Mansi meet during a trip from Delhi to Mcloedgunj. This journey becomes a life-changing journey towards self-acceptance. See how this trip helps them realize their own self. However, things start to become clear for Mansi when she realized that love knows no boundaries.
Everything that the movie shows is relatable with today's world. LGBTQ is the least-spoken issue in India right now and movies like these are surely going to help them. As one of the characters clearly says in the movie, "It is better to be a criminal than to be gay in India".
This movie is helmed by Harish Vyas who has done a great job making this one what it is. The movie has made a huge impact worldwide with many national and international awards. It won the best Film-Audience Choice Award at the HBO South Asian International Film Festival, New York.
Anshuman Jha and Zareen Khan also won the best actor and best actress-Hindi Films awards at the 2020 Rajasthan Film Festival. Director Harish Vyas also won the best director award at the same event. That is not it, the movie was also at the centre of attraction at IFFM Melbourne 2020. It was a closing night gala movie at Kashish 2020, which is Asia's biggest LGBTQ film festival. The movie got financed by First Ray Films and later went on to be released at several international film festivals like the HBO South Asian International Film Festival.
The festival director Sridhar Rangayan said, "We are thrilled to be announcing our opening and closing films for Kashish 2020 Virtual. The two films are so different yet resonate with this year's theme, 'Moving Forward, Together!', which means to highlight stories about different identities — gay, lesbian, transgender and queer. Anshuman said "From the first time I heard it from the director of the movie Harish Vyas in New York in 2017 to the one-year development process to get selected as one of the 10 scripts from Asia at the South Asian Film Market in 2018 to shooting for the film in May-August 2019 to our world premiere in New York City at the HBO South Asian International Film Fest in 2019 and now to playing as the closing film at Kashish, this has been a special journey," Jha also stated that his part in the film is one of the hardest and most sensitive characters he has played till now.
If you have already realized how impactful Hum Bhi Akele Tum Bhi Akele is, you are sure to go ahead and search for it. It is exclusively releasing on Hotstar in the US, UK or Canada, all you have to do is log in to your Hotstar account and start streaming.