Buffet systems in a restaurant perfectly represent the starters and the main course served by them. Elegant buffet systems showcase your creation with minimum effort and arrangement costs. Besides, a buffet can offer a variety of dishes one can taste at a reasonable price.
Buffets can be decorative and can match with all kinds of events and venues. Depending upon your buffet stylist, if you happen to have one, it can provide fresh, simple cuts, homogenized visual, and aesthetics finish.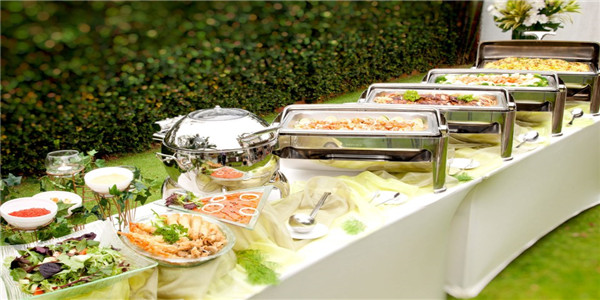 Buffets could be organized at various eating hours, such as breakfast, lunch, and dinner. Tamarind Bistro hosts a lunch buffet, giving their guests a chance to have lunch together and catch up on the latest news.
Many people debate the plated and buffet catering; both must be selected according to the event and budget. However, you can opt for dining out considering a buffet if you are looking for variety in your food. Here are some of the benefits of catered buffet systems-
1) Better Food Presentation- The food presentation makes the buffet system appealing to the eye. Having a different station of starters, main course, and casing the desserts in an alluring way will attract the guests towards the buffet system. Besides, you can place cards providing a little information on the dish that will indulge most of your guests in knowing what they would prefer to select.
2) Organized Functionality- The food presented in the buffet is preserved with care. Hot dishes are kept in warm holders while the cold ones are displayed in cold containers. The temperatures of salads and fruits are maintained using ice that could be discarded later on. The caterers supervise each area and check if the guests need some help with the food.
3) Versatility in Menu- Buffet has a versatile menu: a breakfast buffet, lunch buffet system, or dinner buffet. Every buffet can hold a variety of cuisine placed at different stations. The guests are free to choose what they want to eat. With the changing trends in hospitality, one can experience variety in one plate through buffet systems.
4) Tackles Guests with Dietary Restrictions- Many restaurants consider the general dietary restrictions of their guests. Your restaurant may witness more vegetarians depending upon its location, or there may be Muslims who would prefer halaal catering. Besides, some of them could try different salads, gluten-free food being a fitness freak. So, you wouldn't want to disappoint your guests. All the stuff can be incorporated beautifully and separately for guests to spot them easily.
5) Reduced Costs- The advantage of buffet systems is reduced cost because they require less staff to manage and involve self-service, less space, and tableware. When it comes to a sit-down meal, you have to wait for the waiter to bring the food, whereas when it comes to a buffet, you serve yourself, and there is no time wastage. Moreover, buffets are preferred for parties, events, and even corporate meetings.